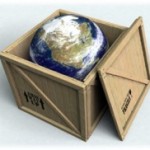 Did you know that there are different shipping services. One type of shipping service is provided by a parcel service, such as the UPS or FedEx trucks you're most familiar with. When you need to ship a package that weighs more than 150 pounds, or a very large package, you need the other type of shipping service: Boston freight shipping.
You can use Boston freight shipping services to ship a single large or heavy package, several heavy items or for an entire truckload of items.  Here at Boston Pack and Ship, we'll help you select the shipping option that best meets the needs of your timeline and budget.  We work with all of the major freight carriers, coordinating domestic freight shipments and international freight shipments.  Freight shipping can be complicated – let us make it easy for you.
Boston Freight Shipping: Understanding Dimensional Weight
One of the terms you'll hear when you need to ship very large packages that are relatively light weight is 'dimensional weight'. Freight handling companies base their rates upon two factors: how much a package weighs, and how much space that package takes up in their truck.  Some items, like feathers or potato chips, can take up a lot of space without weighing very much. Freight companies don't want to lose money shipping these types of items, so they charge an alternative minimum rate known as Dimensional Weight.
If the actual weight of your package is less than the dimensional weight, you have to pay the dimensional weight rates. To determine if dimensional rates apply to your package, multiply the height by the length by the width of your package (measure in inches!), and divide that number by 194. If you're shipping a package internationally and need to figure out the dimensional weight, use the same process, but divide the resulting number by 166.  If you need help determining the dimensional weight of your shipment, give us a call! We're more than happy to help.