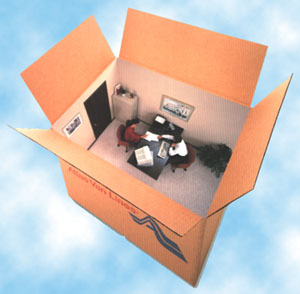 Moving your business can be an exciting time. It may mean that sales have been rocketing through the roof and that you're on your way to fame and fortune. Needing more space for employees, equipment, and customers is always good news – but moving from your current location to a new address can be a big job.
The Best Way To Move Your Office
Moving your office is not a do it yourself job. Resist the temptation to 'persuade' your buddies with pickup trucks to devote their weekend to helping you relocate! Working with a moving company that specializes in small loads is absolutely the way to go – you hire the pros, and they make sure that everything arrives safely, without being damaged or lost, and delivered when and where you want it. Insurance protects your company's assets throughout the move. Let your employees focus on their job and getting acclimated to their new surrounding.
Moving Computers and Servers
Computers, servers, and other technology are among the most valuable office equipment.  Not only are they delicate, expensive instruments in and of themselves, but they contain the data essential to running our businesses.  To move computers and servers, they must be packed carefully, using custom crating where appropriate, foam in place technology to eliminate jarring, shocks, and exposure to any forces that would compromise your data.  Your Boston packaging and shipping company can provide the expertise to make this happen.
Returning Leased Equipment
Commercial moves can be complicated. Returning leased office equipment, such as copiers, to the rental company or to your new location, requires special care and attention. It's essential these items do not become damaged in transit, or your company will incur an unwanted expense. Working with a moving company that has experience dealing with transporting office equipment such as copiers, computers, and servers helps protect the investment your company has made.