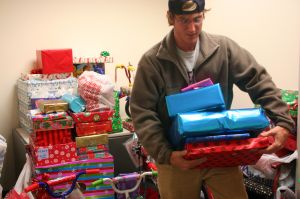 Don't tell anyone, but tomorrow is December 1st.  The holidays are approaching fast.  It's time to start shopping for the perfect gift – and get it shipped right away, so it reaches your recipient in plenty of time.  Remember, there are more packages shipped during the holiday season than at any other time of year.  Freight carriers and shipping services experience an incredible volume of packages and parcels.  What can you do to make sure your gifts make it through the process in one piece?
Here are some helpful hints from your Boston shipping store:
Address Everything Clearly and Legibly: The gift may be great, but if no one knows where it is going, it'll never reach your destination on time. Print or type addresses clearly. Skip the fancy holiday fonts and colored ink: simple to see and read black letters are best.  Double check your information to make sure it is accurate! Packages shipped internationally have special addressing requirements.  Your Boston pack and ship center can help make sure everything is labelled and addressed successfully.
Let The Pros Do The Packing: Did you buy your Mother a crystal vase? A painting for your best friend? Some computer gear for your whiz-kid of a son and four brilliant grandchildren? These delicate items can create a lot of joy – but only if they arrive at their destination safely and in one piece.  Talk to your Boston pack and ship specialists about the best way to pack your items.  They may recommend custom crating, which involves the use of specially sized and built cardboard boxes or wooden crates.  Foam in place technology is used to shelter and cushion even the most fragile items through the chaotic holiday shipping season. Specially packing fragile items is the best way to ensure that they can stand up to kicks, drops, knocks, and worse – and still take a place of honor under the Christmas tree!