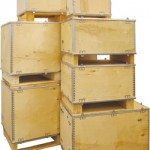 What do you need to ship? If you're shipping a motorcycle, industrial equipment, fine furniture, large screen television, trade show displays, antiques and artwork or any other valuable cargo, the odds are that the best way to package your items is by using a custom crate.
Custom crates are built specifically for your items.  They're sized to contain your cargo as well as the specialized packing materials essential to ensure that nothing gets damaged during the shipping process. Built to your individual specifications, these custom crates are built of high quality wood, with custom hardware, including casters, hinges, handles and locking mechanisms.
Why Custom Crates?
We're often asked why anyone needs a custom crate.  A box is a box is a box, after all — right?  Actually, wrong.  Custom crates are built to be exceptional strong and long lasting.  This durability is essential for cargo that is being shipped long distances — particularly international shipments, air freight, and ocean freight. The use of high quality wood, smart design, interior bracing, and well-engineered hardwood protect your cargo, minimizing the risk of damage on even the longest journeys.
Custom crates are designed to include the best specialty packing material for your items.  Foam lined cartons cushion and support your technology and treasures. Expert understanding of what it takes to transport your precious items safely and securely influences custom crate design.
You don't have to hope that styrofoam peanuts and doubled taped cardboard will be up to the task when you opt for a custom crate.  Instead, you'll have the confidence that comes from knowing your shipment is packaged in durable, well built wooden crates lined with the best packing materials, specifically constructed to ensure everything arrives safely.
Additionally, if you're looking for shipping materials that can be used time and time again, such as for trade show displays, you'll want the quality construction only custom crates can offer. The ability to reuse custom crates truly makes them the most cost effective option for the frequent trade show exhibitor.