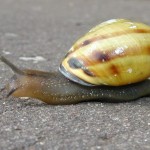 It is not often in this speed-oriented world that we find ourselves envying the humble snail. But when it comes time to move house, it's easy to be jealous of the little guy with his abode lodged permanently upon his back. No matter where he goes, he's always home.
The rest of us have to pack and move our stuff. For students or small families, it's important to know that with a good plan, a Eastern MA small move can be both easy and affordable.  The first step is to find a moving company that specializes in small moves.  A small move is defined by the amount of stuff you've got. If you've only got a few pieces of furniture and some basic possessions, this means we're talking to you.
The reason it's important to find a moving company that specializes in small moves is that you'll save money.  The best Eastern MA small move company has no minimum load size requirement.  That means you're not paying for truck space that you just don't need. You also want a moving company that will treat your items with respect and dignity.  Your possessions are just as important, just as valuable, just as fragile and deserving of care as those from a larger household filled top to bottom!
Eastern MA Small Moves: Coast to Coast or Across Town
Some small moves are also long distance moves. We see many students in this situation, as they find career opportunities far away from the place they spent their student years. We work closely with all student movers, to coordinate schedules and ensure everything is delivered as expected. If you're planning an international move, contact us today. We can make the process painless.
Custom crating services available for all small and student moves to protect your possessions. The best packing materials used to keep your stuff safe.  Contact us to find out more.