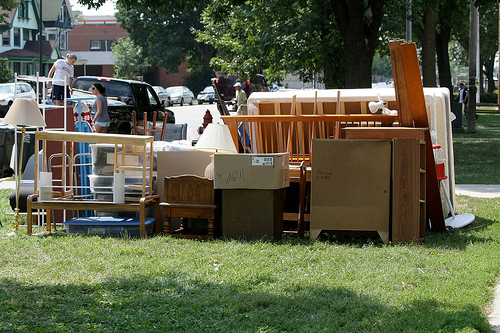 "I'd been out of school for a little over two years," Jenny T. said.  "Looking for work, like everyone else.  You'd better believe that when I found a job I jumped at it.  If that means moving, it means moving – the fact I'm finally getting out of my parent's place  has nothing to do with it!"
Jenny was leaving her parent's home, but the furniture wasn't coming with her.  "I had my bed and dresser and an armchair, and that was about it, furniture wise.  And my computer desk and chair."  Even when combined with boxes of Jenny's personal possessions, there wasn't a large load.
Finding the Best Way to Move When You Don't Have A Lot of Stuff in Massachusetts
"I tried calling a few Massachusetts moving companies, and discovered that most of them have minimum load sizes.  Even though I only had basically one room full of things I had to rent their smallest truck – which was large enough for an entire house's worth of stuff!"  The prices Jenny was quoted were so high that she began pondering packing all of her possessions into a friend's van and moving everything herself.  "That was an option, but after you factor in gas, tolls, and the fact I'd need someone to help me load and unload the truck – I definitely can't do this  myself! – I wasn't coming out ahead.  I'd pretty much resigned myself to leaving the small amount of furniture I had behind and just buying new in the new place.  Which was NOT an expense I needed, thank you very much!"
Luckily, Jenny heard about Massachusetts small move specialists. "What you want is a company that has no minimum load size but is a professional, reputable moving company." Finding a company that specialized in small and student moves enabled Jenny to make it to her new place with all of her furniture for far less money than the other moving companies would have charged her.