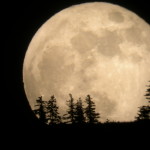 Tonight, you may notice that the moon is brighter and larger than usual. That's because it's what astronomers call a Supermoon – an event where the moon's orbit is just a little closer than normal. It'll  be beautiful, and it's a great chance to do some lunar observations.
If you're an astronomer, of the backyard or professional variety, you may need to ship a telescope or other celestial viewing equipment. This happens sometimes when people travel to view space events that can't be glimpsed from their home location: solar and lunar eclipses can't always be seen everywhere. The Northern Lights are another great example. They won't come to you, you have to go to them! How will you bring your telescope?
Shipping a telescope is no joke. The lenses and control mechanism aren't made for rough handling. A single knock, drop, or jar can knock the whole apparatus out of whack – not what you want when you're traveling to glimpse what very well may be a once in a lifetime event! This means that preparing your telescope for shipping is not a do it yourself job.
As your Boston shipping store, Boston Pack and Ship has extensive experience packaging telescopes and other scientific equipment for shipping. Our custom crating service means your telescope travels in a specially-designed, sturdy, individually designed and built wooden shipping crate that will protect your telescope from the rigors of travel. Foam in place technology is the ultimate packing material for shipping telescopes: this special expanding foam forms a protective hard shell around your telescope that completely cushions and supports it while it is in transit.
Additionally, if you're an astronomer, you already know that telescopes aren't cheap! We offer a full range of insurance options to protect the investment you've made, and comprehensive tracking lets you know where your telescope is as it travels. Ready to learn more? Call us! We're happy to answer any of your questions!