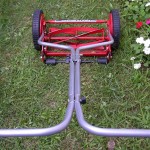 "When I asked my son if there was anything he wanted from his Grandfather's estate, I was shocked to hear him say he wanted the lawn mower. It's nothing great – just an old fashioned push mower. But I guess it's sentimental for him, and he's into that whole green living thing anyway…" Jeannette paused, and laughed.  "Have you ever tried to pack a lawn mower for shipping?"
Massachusetts: Shipping Unusually Large or Strangely Shaped Items
The first thing you need to know when you're packing unusually large or strangely shaped items like a lawn mower is that each individual freight carrier service has their own unique set of size and weight rules. Knowing what these rules are makes it easier to package your shipment in the most cost-effective way. As your Massachusetts shipping store, we've developed an expert knowledge of shipping size regulations, and can work with you to get your unusually large or strangely shaped item packaged in a fashion the freight carriers will find acceptable.
That's the first  hurdle.  The next step is to package large or strangely shaped items in a way that protects them from damage during shipping.  Big doesn't always mean tough! Custom crating and the use of superior packaging materials, such as foam in place technology, can protect your fragile antique furniture, artwork, or electronics while they're in transit.
A full suite of tracking and insurance options is available from your Massachusetts shipping service.  This way, you'll always know where your item is, and that it's well-protected against loss or damage.  This is important for musicians who need to ship musical instruments, or artists who are anxious that their work gets to the gallery safely and in once piece.
Jeannette got the lawn mower packaged up with the assistance of her Massachusetts shipping store.  Her son received it days later, in perfect condition. Today he is mowing his lawn with the same mower his Grandfather used!