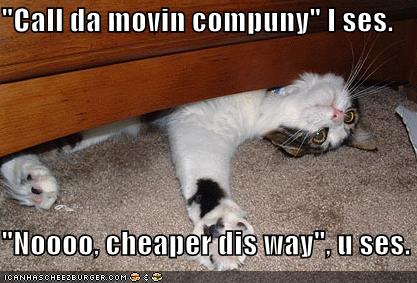 "By the time you're my age, you expect that you know a thing or two on your own," Bob said. "But it turns out that there were many, many things that I depended on my wife Jillian for. Now that she's gone?" He smiled a sad smile and shrugged his shoulders. "It turns out I don't know nearly as many things as I thought I did."
One of those thing Bob's wife Jillian handled was arranging the move every time Bob's career caused the family to relocate. "Now that it's just me, I qualify as a small household," Bob said. "I don't have as much stuff anymore. I've given so much of Jillian's furniture to her children, and kept just the stuff I need." The downsizing left Bob with only a few pieces of furniture to move.
"I thought about doing it myself with one of those rental trucks,"Bob said, "But who is around to help me lift this heavy furniture? My friends are all just as old as I am!" Hiring a Eastern MA moving company that specializes in small moves allowed Bob to let someone else do all the heavy lifting.
One of the primary advantages of hiring a moving company for your small move in Eastern MA is that you don't have to worry about loading or unloading the moving truck yourself. Furniture and boxes of possessions are heavy! If you're not in great shape, it's easy to injure yourself while moving. "I'm seventy-six years old," Bob said. "I don't consider myself frail by any stretch of the imagination, but I won't kid you: if I drop that couch on myself, I'm going to feel it."
Choosing an Eastern MA moving company for small moves also allows Bob to save money. "Choose a moving company that has no minimum load size requirement!" he said. "Why pay for truck space you don't need?"