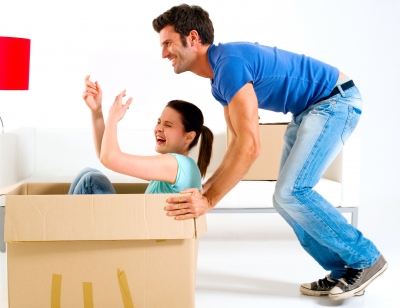 Are you planning your first move? Whether you're headed off to college, relocating for a new job, or starting life with your sweetheart, it doesn't take long to discover that small moves can result in big headaches.
What is a Small Move?
Students, young families, and elders who live alone may not have as much furniture, artwork, household possessions, television and stereo equipment, computer gear, and musical instruments as larger families do.  For this reason, some moving companies don't want their business…or if they do, they'll charge you minimum load size charges that mean you're paying for truck space and services you don't need and won't use!
Making Life Simple For Yourself
To make life simple for yourself, you'll want to find a moving company that specializes in small moves. These companies know that even if you don't have a lot of stuff to move, the stuff you do have matters! To make sure your technology, china dishes, grandfather clocks, and similar items arrive safely and in once piece, work with an expert packing and shipping company.
There's a best way to pack everything, and they know what it is. Don't trust your precious items to chain shipping stores that just throw everything into a cardboard box and stuff packing peanuts in at random! Customized crating solutions include specially sized boxes built exactly for your items. Foam supports cushion and cradle your items against all shocks – if something is knocked, dropped, or kicked around while in transit, the contents remain safe and secure!
Long Distance Small Moves
Moving a small household a long distance, such as cross country moving or overseas moving, presents some special challenges. On the one hand, you've got the great experience of starting life in a new destination and building fresh connections. On the other, you've got the logistics of moving all of your stuff through unfamiliar territory. Let your small move specialist handle your long distance small move and you can concentrate on the fun part of moving!