Wooden shipping crates are everywhere. You can't walk through a warehouse or across a loading dock without seeing one of these ubiquitous boxes, protecting and concealing everything from machinery to clothing, fine foods to industrial equipment.
Yet have you ever thought about how they're made? If you've ever pondered wooden shipping crates construction, perhaps you've imagined a very boring workshop, where gnomes pound out box after box after box, an endless pile of pine planking and plywood panels at the ready. Not so. Wooden shipping crates construction is far more complex and involved than you ever might have imagined.
For one thing, not all crates are created equal. Wooden shipping crates construction needs to take several things into account: what will the crate be used to carry? Is it okay for the contents of the wooden shipping crate to shift during transportation or must they remain locked safely in place? The answer to that question will have a great impact on wooden shipping crates construction.
Additionally, how far will the crate have to travel? A wooden crate that's crossing town does not have to be as sturdy or substantial as one going into a container ship crossing the Pacific. Wooden shipping crates construction involves crafting a crate that can stand up to the job at hand.
Custom wooden shipping crates construction is becoming increasingly popular. Having wooden shipping crates constructed to hold products perfectly in place, protecting them from the trials and tribulations of transport, cuts down on damage and breakage costs. Additionally, as environmental concerns are becoming increasingly more important in every sphere, wooden shipping crates construction companies are designing multi-use units that can deliver products safely without requiring a new crate every time. This is a great boon cost wise, and can also help companies that are trying to 'green' their corporate image.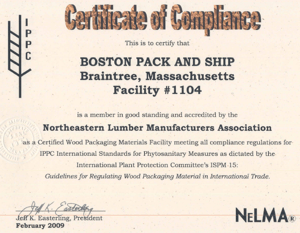 Call 800-400-7204 or click here for a free quote.
We are a member of Northeastern Lumber Manufacturers Association. NELMA is pleased to offer IPPC ISPM 15 certification inspection services to facilities that produce wood packaging materials (WPM) such as boxes, crates, skids, pallets, etc. destined for use in exporting goods to the numerous countries that have implemented the International Standard for Wood Packaging.