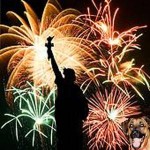 The Boston Pack and Ship team would like to wish each and every one of you the happiest 4th of July ever. Independence Day in Boston is always special: after all, so many of the pivotal events that shaped our country's history happened right here. It's been a rough year, no doubt, but we are and continue to remain Boston Strong. On July 4, we celebrate what makes this city and our nation great.
Boston Shipping Made Simple
We'd like to thank our friends and customers for supporting Boston Pack and Ship throughout the year. It's our honor and privilege to provide each and every one of you with the very best in expert shipping services. You are important to us, and that's why we go the extra mile, paying attention to detail with everything we do. From building custom wooden shipping crates through arranging overseas shipments, we do it all.  Thank you for giving us the opportunity to do it right!
Boston Pack and Ship: For Long Distance and Small Moves
We love Boston, and we'd never want to leave. However, we understand that sometimes you have to move to follow your dreams, pursue a great opportunity, or take care of your family and loved ones. Boston Pack and Ship specializes in helping families and businesses of all size make their moves stress free.
When you don't have a ton of stuff to move, choosing a moving company that specializes in small moves can help you save money. At Boston Pack and Ship, our no minimum load charge policy is great for your budget. Why pay for truck space you don't need and won't use?
Coordinating international and long distance moves is very challenging. Let the experienced Boston Pack and Ship team help you move across town or around the world!