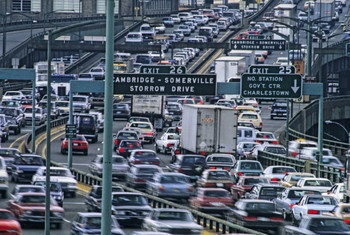 There are lots of things to love about Boston — the people, the culture, the Red Sox and Patriots — but there's one thing that can make life a little challenging.  Yes, we're talking about that infamous Boston traffic.  Factor in the maze of narrow one-way streets, roundabouts, and drivers who are paying more attention to their Blackberry than the road and you can see why moving in Boston is such a challenge.
Moving To A New Apartment?
Finding great housing in Boston can be tough.  If you find a great apartment, you'll want to jump on it fast.  Then it's just a matter of moving all of your stuff into the new place.
There are a couple of ways you can handle your move.  You can try to pack all of your stuff into your car — or your friend's car — and, making a few trips, move your clothes, your computer, your books, your electronics and more. Of course this idea falls apart if you have any furniture…and despite what may have worked when you were in college, bean bag chairs and futon cushions just don't cut it where comfort is concerned.
You can try renting your own moving truck to pack furniture, larger possessions and the rest of your things.  That involves some heavy lifting — but the real trouble starts when it becomes time to get the show on the road. If you've never driven a 10′ or larger moving truck, you're in for a surprise: it's not as easy as it looks.  It's not easy anywhere — but on the crazy streets of Boston, it's particularly challenging.  If you have an accident – even just  a fender bender – your little move can be a big headache!
The best option is to opt for a moving company that specializes in small load moves.  When you don't have a minimum load size, you know you're not paying top dollar – so you save money! And by letting someone else handle the packing, driving, and delivery your small load move in Boston can be practically stress free!